Kathy Blair Memorial Endowed Scholarship
The family of Kathy Lynn Blair and TCDA are pleased to announce a goal of creating and establishing an endowed scholarship to honor Kathy Blair, an Austin, Texas-based vocal music teacher and gifted singer who died tragically at the age of 53. The family hopes the endowment will continue her lifelong passion to make careers possible for those who wish to devote their lives to vocal music.
 
In the last 20 years of her life Kathy was Director of the Christian Choral Society of Austin (CCSA), a unique program of choirs ranging from preschool to high school-aged children in the home-school community. Kathy taught vocal technique and sight-reading to each member of her program and offered private voice lessons to many of her students. She handled scheduling and business functions of the program in addition to coordinating summer musicals and off-site performances to places like the Texas State Capitol Building, soup kitchens and senior homes.

Kathy was a gifted vocalist, and from her first experience singing in her junior high school choir,  joyfully embraced her innate gift of song. She excelled in choral music and musical theater in high school, and achieved a bachelor of arts degree in vocal performance from Chapman College in Orange, California, as well as a master's degree in vocal performance from the University of Texas at Austin. Along the way, she directed church choirs, participated in musical theater productions, worked as a singing waitress, and sang in church choirs and various vocal ensembles. She was goofy-funny, disciplined and structured, loyal to the core, and a generous friend to all who knew her.

Kathy was born in 1961, the oldest of three children. She was raised in Southern California by her German mother and American father. She was singing almost before she could talk, and growing up her musical influences ranged from listening to her mother's classical and opera music to her father's pop and country recordings. She played guitar and piano but her first love was always singing. Whether it was the playing the lead in a high school musical or forming all-girl barbershop quartets, her high school years were all about music. Her choir teacher from Canyon High School in Anaheim Hills was a lifelong mentor.

After college, Kathy married and had a son and daughter, now adults themselves, who were the loves of her life and of utmost importance to her. Growing up, they both sang in CCSA choirs and participated in their mom's summer musicals. They also assisted her with the "family business," honing their mother's work ethic first hand. It was out of Kathy's calling to be a great mother to her children that she decided to home-school her own children and shift her career goals from opera singer to music teacher. Although the family business was not necessarily a lucrative one, Kathy advocated for her son and daughter to attend college, and was always there to advise and assist them at every turn. Both of them are now college graduates, her daughter attaining a Bachelor's degree a week after her mom died.

Somewhere along the line she realized her true calling in life was to share her musical gift by teaching others.  She cared so deeply about her program and students that she went far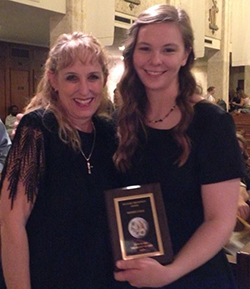 above and beyond her job description, entering them in statewide vocal competitions and creating yearly personalized awards for each. Her program was also one of the few social outlets for many of her home-schooled students. Generations of them came to cherish and admire their Miss Kathy. 
 
Dedicated parents of Kathy's students, the Austin church community, and music professionals have kept Kathy's program going, renaming it the Christian Academy of Performing Arts (CAPA) — a lasting legacy of Kathy's dedication to musical mentoring children of all ages. When friends and family considered other ways to honor her memory, it seemed a music scholarship in her name is just what she would have wanted. 
 
Your donations and dedication to keeping Kathy's memory alive by supporting this endowment is appreciated more than you know!